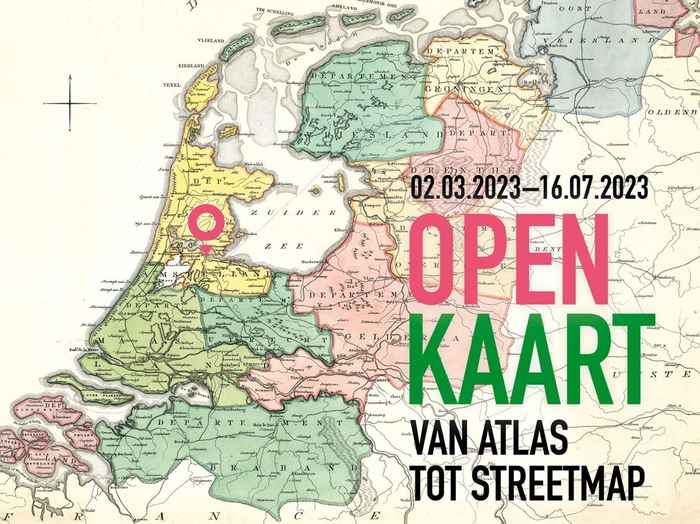 From 2 March, the exhibition Maps unfolded - from atlas to street map opens in the museum Allard Pierson. The exhibition takes you through seven centuries of maps and atlases, dating from 15th-century drawings to the maps of the future. Discover the diversity of maps the Netherlands has to offer and learn more about the colonial relations and geographical developments behind these maps. Moreover, work by contemporary artists who have been inspired by the phenomenon of maps and 'mapping' will be on display. UvA staff and students pay a reduced rate to visit the exhibition.
One of the largest collections worldwide
All maps in the exhibition, including works by Blaeu, Ortelius, Ptolemaeus and Bos, are part of the cartography collection held at the Allard Pierson. This collection, consisting of about 135,000 maps, 4,500 atlases and a number of globes, is among the largest in the Netherlands and among the larger collections in the world. Many of the maps are on long-term loan from the Royal Dutch Geographical Society (KNAG), which celebrates its 150th anniversary in March.
Amsterdam, the map capital
Maps unfolded starts in Amsterdam with a unique large city map from 1625 full of small details. Most of the maps in the exhibition were made in Amsterdam. Not surprising when you consider that Amsterdam was the world's leading producer of maps in the seventeenth century. Nowhere else were such accurate and beautiful maps made as in the Kalverstraat and on the Damrak, where Frederick de Wit and Willem and Joan Blaeu, among others, had their workshops.
Colonial relationships
After Amsterdam, the exhibition zooms out to the Netherlands, Europe and the world. You will discover that behind every map there is a story. Old and more recent maps testify to geographical developments, the Netherlands' dealings with water and changing borders, and to colonial relationships. Maps unfolded also pays special attention to maps of Indonesia, Suriname and the Antilles.
A look into the future
Maps unfolded is spread over several rooms in the Allard Pierson. Each room highlights one of the maps for visitors to examine. Besides a rich history of maps, the exhibition also casts a glance into the future. How will cartography continue to develop? A separate room is devoted to the very latest cartographic techniques, a collaboration with the Amsterdam technology company TomTom.
The exhibition Open map - from atlas to street map can be seen from 2 March to 20 Augsut 2023.
Maps Unfolded has been made possible by: Koninklijk Nederlands Aardrijkskundig Genootschap, TomTom, Noordhoff, Prins Bernhard Cultuurfonds, Stichting Kramer/Lems, Jansonius Fonds, Amsterdams Universiteitsfonds, Hendrik Muller Fonds, Janivo Stichting, M.O.A.C. Gravin van Bylandt Stichting.